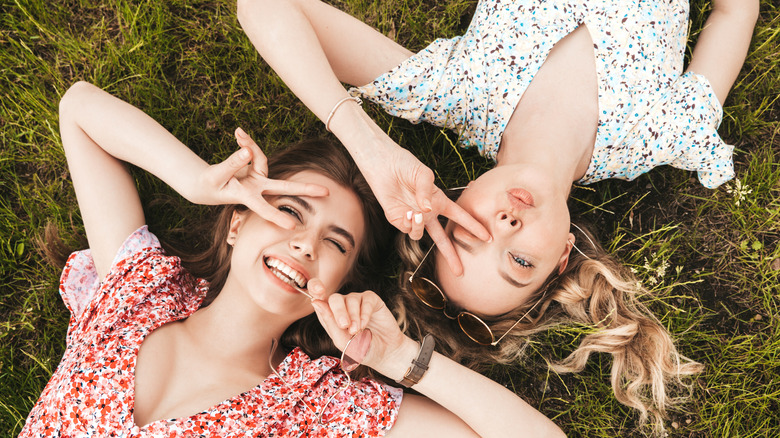 While there will always be room for the edgy e-girl aesthetic and its chunky platforms and chain belts (via Trendspotter), lighter, more playful styles feel perfect for summer. Many people first think of the ubiquitous "soft girl" aesthetic, known for its shimmery makeup, scrunchies, candy-colored bags, a pastel palette, and a cloud-like vibe that reminds us of Olivia Rodrigo's "Sour" and ice cream (via Cosmopolitan). But that's not the only light-hearted style you can go for — the cottagecore aesthetic is equally sweet, just much more airy and ethereal. While "soft girls" live in a candy wonderland, cottagecore style is right at home on a cozy farm, and we're loving it.
According to Good Housekeeping, cottagecore "embraces the charm of the English countryside" and evokes farm life. This aesthetic romanticizes rural activities like having a garden, making bread, and tending to animals like chickens and goats — all while sipping tea and wearing cozy, sustainable clothing. This style is all about escaping the buzzing world of technology we live in, and trading it in for soothing nostalgia. As per The New York Times, cottagecore is like a fairy tale come to life, complete with patches of grass, scones, hanging laundry in the sun, and yes, a magical cottage. 
As writer Katherine Livesey told HuffPost, cottagecore is about "Taking up embroidery so you're not endlessly scrolling through social media, growing herbs on your windowsill, baking something delicious and cuddling your cat." So how to embrace the cottagecore aesthetic in your own life?
All about cozy cottagecore style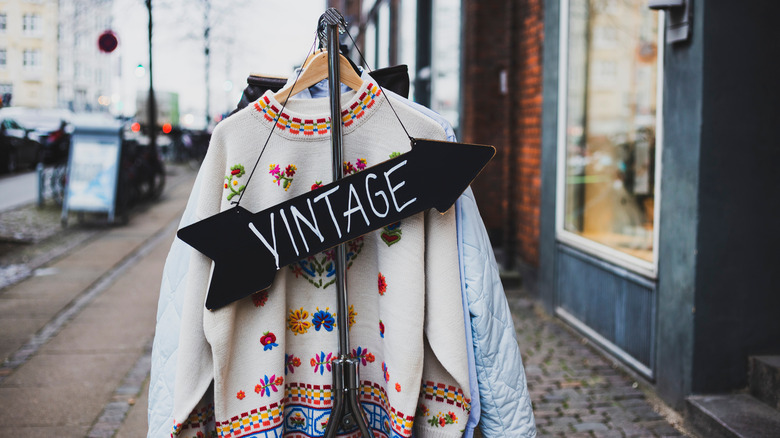 So how does cottagecore translate into fashion? This aesthetic is all about soothing comfort, set to the music of Taylor Swift's "Folklore," as you bake a fresh-from-the-tree apple pie. Meaning, when it comes to clothes, you should evoke coziness and vintage nostalgia — while also steering clear of anything brand-spanking-new. Wovn Home founder Davina Ogilvie told Architectural Digest that this style is "romantic" and a "nod to the traditional English countryside style," so try dainty floral prints, intricate lace, natural wool knits, Peter Pan collars, and loafers with frilly socks.
Similar to the prairie girl trend, cottagecore is all about "ruching, ruffles, tiers, smocking and embroidery," details that add personal, unique touches to your vintage-inspired look (via HuffPost). Straw hats, clogs, and puff sleeves are similarly important, with a fairy-tale book in one hand and a wildflower bouquet in the other. When it comes to prints, farm-ready gingham, florals and plaid are great, and colors should be pastels or neutrals like lilac, sky blue, eggshell, and baby pink.
Since cottagecore is such a natural, organic aesthetic, minimal makeup is a must. Simply dab on some poppy-colored cream blush, a hint of mascara and gloss — a little goes a long way! Try braids with tiny flowers in them for your hairstyle, or leave it loose in mussed-up waves.
Cottagecore interior design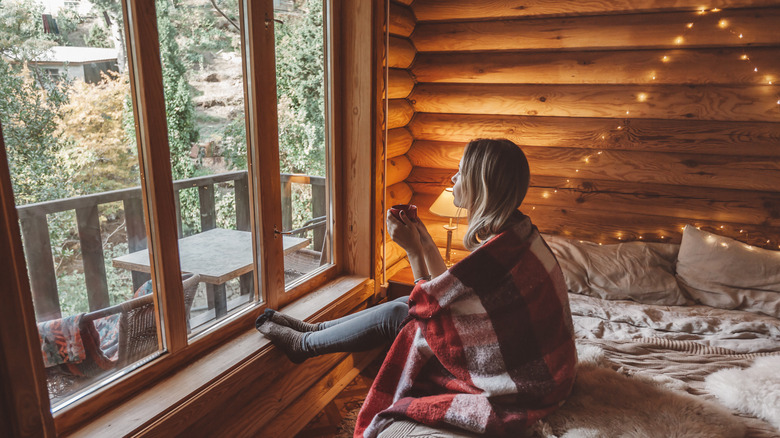 If you really want to embrace cottagecore style, why not bring the aesthetic to your home life as well? Same rules apply: a cottagecore home is warm, inviting, and evokes the past through natural fabrics, whimsical wares, and florals. As per Architectural Digest, this aesthetic is the epitome of "engaging in grandma-inspired craft projects like knitting and embroidery," so why not deck out your house in chunky blankets, embroidered pillows, and vintage-inspired curtains? Bringing flowers indoors is always a good idea, as well as starting a mini-garden in your backyard, or growing a few herb plants in your kitchen.
The cottagecore home aesthetic is "[a]ll about coziness at home" and involves "bringing natural elements indoors as decorative elements — dried flowers, fresh flowers, houseplants" to create the feeling of the simple life (via Architectural Digest). Choose a neutral color palette with hints of pastels, plus gingham and floral fabrics. Think "Little House on the Prairie" and "Cinderella" with your own modern touch, adding hints of whimsy and joy to every corner with pottery, fairy lights, and bread baking in the oven, of course.
Source: Read Full Article