In football vernacular, Alison Neitzel, MD, threw a Hail Mary in the form of an open letter to Green Bay Packers quarterback Aaron Rodgers about his recent vaccination controversy.
Neitzel, a recent Medical College of Wisconsin graduate, recently published a letter on her now private Instagram to Green Bay Packers coach Matt LaFleur, general manager Brian Gutekunst, and Rodgers about the controversy surrounding the Super Bowl-winning quarterback and his comments on the COVID-19 vaccine.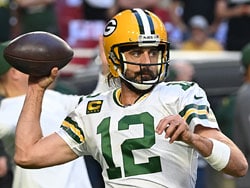 Rodgers recently tested positive for COVID and it was announced he would miss further time under the NFL's guidelines for unvaccinated players. The quarterback told reporters he was "immunized" during the preseason, but did not wear a mask during news conferences and other team outings as mandated by the NFL. For the latter infractions, Rodgers was fined $14,650 and his team $300,000, according to reports. As of today, he is still not cleared to resume playing, but if he clears COVID protocols on Saturday he'll suit up for Sunday's home game against the Seattle Seahawks.
In the letter that she also posted on her public Twitter, Neitzel, who is currently working toward a Master of Public Health degree with a specialty in public policy, criticized Rodgers for using his platform to aid the spread of misinformation. Furthermore, she emphasized what his comments will do to Americans, especially the people of Wisconsin, who are on the fence about getting the vaccine. Currently, only 59.2% of people in Wisconsin are fully vaccinated against COVID-19, whereas 63.8% have received at least one dose.
Although Neitzel hasn't heard directly from the team or Rodgers, she has gotten a lot of public response over the letter, but is trying not to look at every online comment.
"I know that a young female doctor going up against an NFL MVP is a story, but I'm not saying anything controversial," Neitzel told Medscape Medical News. "I don't have anything to gain from this. I just want to help save lives."
Rodgers recently went on "The Pat McAfee Show," a daily football podcast, to try to clarify his earlier comments, saying that he is allergic to an ingredient in the mRNA vaccines and that he believed his sperm count could be impacted by a vaccine. He also admitted being a little misleading about his vaccination status regarding the "immunized" comment to reporters.
For Neitzel, the news about Rodgers' vaccine controversy hit very close to home. Having grown up in Wisconsin, she shared how important the Packers are to the culture of the state. While her educational pursuits have taken her all over the country, she has always retained her Badger state pride, sporting a Green Bay sticker on her laptop in college and wearing a Rodgers No. 12 jersey. She has even made it a mission to watch as many Packers games with her Dad as she possibly can. Neitzel herself is a shareholder of the team as well. (The Packers are the only publicly-owned team in the NFL and currently have over 360,000 shareholders.)
Having been raised by two doctors, Neitzel shared how easy it was for her and family members to bond and build relationships with patients over their Green Bay pride as they came into doctors' offices with the Wisconsin uniform: Packers merchandise.
Neitzel said that one of the greatest areas of concern following Rodgers' vaccine misinformation is the young children who idolize Rodgers, reading his comments and being swayed away from getting the vaccine.
Additionally, in her letter, Neitzel stressed to Rodgers that as a younger, healthy, athletic man — he turns 38 in December — his concern shouldn't just be his individual health, but how vaccines are impacting the larger society. She stated that the mass amount of traveling (and maskless, no less) that Rodgers undertakes as pro athlete is dangerous in that he could easily be spreading COVID-19 to the most at-risk individuals: "the very young, the very old, or immunocompromised populations" who are included in his massive fan base.
"As someone who has been part of a team for his whole life, I wish you would see these individuals as part of your larger 'team,' " she wrote. "We have to all be in this together to achieve our goals of herd immunity just as you have had to work together with your teammates to win games and titles."
While Neitzel was a student at the Medical College of Wisconsin, Rodgers was awarded an honorary doctorate in humanities from the school for his commitment to ending childhood cancer and blood diseases. Considering Rodgers has partnered with other health organizations in the past, Neitzel said that his recent comments felt like they came out of "left field." Although she agreed that everyone is entitled to their own opinion, she said that Rodgers "isn't entitled to his own scientific fact." She said that if Rodgers had concerns about the vaccine, then he could have used his platform to have an open dialogue with medical professionals to understand their perspective.
"Furthermore, I fear you are missing — and propagating — a very important point. We don't just get vaccinated for ourselves, but for the greater good," she wrote.
Neitzel remembers her own vaccination last December. She was in her third year of medical school when the pandemic struck, and after all the uncertainty, exhaustion, and fear, she received the COVID-19 vaccine from the pharmacy students at her college. She said the students 'air-hugged' each other and felt like an end was in sight. Neitzel is understandably frustrated with the low vaccination rates across the country, especially considering that 95% of hospitalizations from COVID-19 involve unvaccinated Americans.
Neitzel spoke of the intricacies of a hospital — all the doctors, nurses, anesthesiologists, surgeons, pharmacists, and residents swirling around the rooms and hallways and working in conjunction to offer the best care possible for their patients. She said no matter the circumstance, medical professionals "will still do all they can in their power to help people." She said she has always practiced with a patient-centered philosophy, wanting to engage in a dialogue with people where she asks, "What do you know? What are your concerns? How can we best help you?"
She urged people to listen to medical professionals and to get vaccinated. Although there's no guarantee Rodgers will heed her advice — or even see her letter — Neitzel's message to others on helping stem the tide of COVID is simple:
"Help us. We'll still be there for you. Just help us too," she says.
For more news, follow Medscape on Facebook, Twitter, Instagram, YouTube, and LinkedIn
Source: Read Full Article