For our free coronavirus pandemic coverage, learn more here.
It's a question that's got science searching for answers: how come one person in a household can have COVID-19, while others escape it – even when they share the same bed?
"Sharing a household presents the highest risk of infection but there are many reasons why not everyone becomes infected," says Associate Professor Paul Griffin, director of infectious diseases at Mater Health Services in Brisbane. "Some people are more infectious than others – it can depend on their viral load and their symptoms. If they're not coughing and sneezing much there'll be less risk.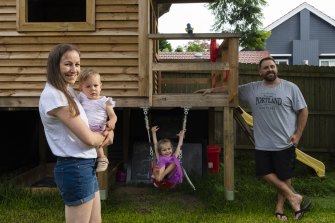 After Nick Cooper got COVID-19, his daughter Lucy, 4, was infected, but not wife Heidi or 15-month-old daughter Mila.Credit:Rhett Wyman
"Vaccination matters too – having three shots of the vaccine is an advantage. Then there are environmental factors like how well ventilated the home is and whether the infected person is isolating or in contact with the others."
Griffin knows all about this. When his wife and one of their children caught COVID in January, they isolated in another part of the house while he amped up the ventilation.
"We used a combination of opening windows and doors, with fans to circulate the air, and air purifiers with a HEPA filter to help further reduce the risk – it helps dilute the amount of virus in the environment, replacing air that might be contaminated with clean air and reducing the amount of virus settling on surfaces," says Griffin, who escaped infection along with his other two children.
But how is it possible to stay COVID-free when you're not only sharing the same room but also the same bed? When Nick Cooper, from Sydney's Northern Beaches, noticed a throat tickle five days before Christmas, he had two PCR tests but the results were delayed. Tests for Heidi and their children, Lucy, aged four and Mila, 15 months, were negative – and when Nick's results finally arrived on Christmas morning, he was positive.
Throughout this time Heidi and Nick continued sleeping together.
"It was partly because we have no spare bedroom and Nick wasn't coughing or sneezing," says Heidi who, like Nick, was doubly vaccinated. "But when the rest of us tested negative, we assumed Nick must be negative too, otherwise he'd have infected us – or so we thought."
Heidi and Mila remained COVID-free, although Lucy tested positive on Boxing Day.
Meanwhile, members of the Woodford family were getting together after Christmas, including James Woodford and his daughter, 16-year-old Mary, who live together, and their visitor, Mary's 21-year-old sister Sophie. Two days later, Mary developed COVID symptoms and tested positive, yet Sophie – who'd shared a bed with Mary – was negative. James was negative too, as was Mary's 29-year-old brother, Angus, who was exposed at a separate family lunch on Christmas Day.
"The rest of us had assumed we'd all get it because we'd spent Christmas Day together in close proximity, and I was looking after Mary while she was sick," says James, a former Sydney Morning Herald journalist and author. "But it might have been the booster shot that made the difference … By then, Sophie, Angus and I had had three shots but Mary had only had two."
He could be right.
"With Omicron, the booster makes a big difference," says Associate Professor Nathan Bartlett, Head of Viral Immunology and Respiratory Disease at the Hunter Medical Research Institute and University of Newcastle.
"Emerging evidence suggests that by five to six months after the second shot, two doses of any vaccine provides limited protection against symptomatic disease caused by Omicron, although some protection against severe disease remains. However, a third booster rapidly increases protection from symptomatic disease, back up to around 70 per cent within one to two weeks," he explains.
"Other factors that might tip the scales in your favour if you're exposed to COVID include your innate immunity and previous exposure to other coronaviruses."
A new study by Imperial College London suggests that having high levels of T cells (part of the immune system) produced by earlier exposure to common cold coronaviruses can help protect against COVID-19. The research – beginning in 2020 when most people in the UK had neither been infected with COVID nor vaccinated against it – looked at 52 people living with someone who tested positive to COVID. They found that the 26 people who remained uninfected had higher levels of these T cells compared to those who caught the virus.
"There are four endemic common cold coronaviruses circulating globally and they have similarities in their proteins to the coronavirus that causes COVID – and it's these proteins that your immune system recognises and might provide some level of cross protection. But the research isn't definitive," Nathan Bartlett stresses. "At this stage it's a plausible suggestion, not proof. "
Could differences in genes be protective? Maybe – but so far research has concentrated on genetic variations that boost the risk of severe illness with COVID, rather than any differences that determine whether or not we become infected, he says.
"There are so many factors in addition to genes that can affect immunity … including age, gender, nutrition, body weight, stress and chronic disease, and they can help tip the balance either way."
Make the most of your health, relationships, fitness and nutrition with our Live Well newsletter. Get it in your inbox every Monday.
Most Viewed in Lifestyle
From our partners
Source: Read Full Article