This New Year, I'm skipping the traditional triumvirate – get fit, lose weight, drink less – to focus on the garden. My resolutions are these:
Quit feeling guilty
All too often plants and plantings don't turn out the way we'd hoped. They are too big, too small, wrong colour, wrong habitat, sick – and sometimes dead. And even if the individual plants are fine on their own, their incompatibility with their neighbours may be causing our visions of loveliness to fall flat.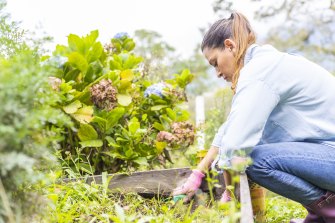 All too often plants and plantings don't turn out the way we'd hoped.Credit:iStock
This year I'm going to admit failure faster and move on.
I'll triage unhealthy plants before committing to trying to save them. Is failure to thrive easily remedied, with a boost of Gogo Juice or Seasol and a bucket of water, or have I just tried to grow the wrong plant in the wrong place? I'll make a hard-headed decision about treatment based on the importance of the plant to the garden – and the gardener. Not all plants deserve nursing.
And when the lovely vision fails to materialise I'll experience no guilt as I toss the failing plant/plants into the compost and begin to dream a new, more realistic, scheme.
Likewise, I'll compost the indoor plants that are no longer giving me joy. (And my plea to others: don't even consider planting an indoor plant outside. All too many tiny Sydney yards are struggling under the now-massive imposition of a formerly pot-bound fiddle-leaf fig, monstera or firesticks.)
This year, I give myself permission to fail in the garden, change my mind, hate the thing I used to love and ditch what doesn't make me happy.
Keep notes
Garden designer Michael Cooke recently told me he's been keeping a garden journal for the past 30 years. Every few days he jots down notes about what he has done; what's looking great and what's not; ideas and plans; the origin of gifted and purchased plants; the weather. The result is a treasure trove of intimate detail about the garden he has been working on for decades. How good would that be!
While I'm not up for that kind of commitment, I can keep a folder of plant labels; take a lot of photos, of the good bits, the bad bits and the blah bits; and take a few notes in a journaling app on my phone.
Garden for the planet
Small decisions, repeated by millions of gardeners around the world, can make a difference.
Here's my to-do list so far: Grow something to eat. Reduce emissions by mowing the lawn with a hand mower and banishing other petrol-powered tools. Plant small shrubs to provide habitat for small birds. Increase the plant diversity in the garden to increase biodiversity. Keep the birdbath spotlessly clean to avoid spreading feather and beak diseases among avian visitors. Mulch with a variety of sizes to encourage soil microbial diversity. Avoid using pesticides and herbicides to maintain insect life. Don't place owl-killing rat poison anywhere in the garden. Make compost. Be smart about water. Plant a tree wherever there is room. Don't be too tidy. Pay attention.
Make the most of your health, relationships, fitness and nutrition with our Live Well newsletter. Get it in your inbox every Monday.
Most Viewed in Lifestyle
From our partners
Source: Read Full Article