The country's leading authority on melanoma has called on sporting organisations to move games away from the middle of the day, change training times and provide portable shade structures to prevent a form of skin cancer that is still killing one Australian every six hours.
The joint medical directors of Melanoma Institute Australia, Professor Georgina Long and Professor Richard Scolyer, said every level from grassroots to professional sports needed to minimise the risk of sunburn by such measures as swapping caps for broad brimmed hats, providing long-sleeved ultraviolet protection factor 50 playing kit and ensuring sunscreen was applied and reapplied.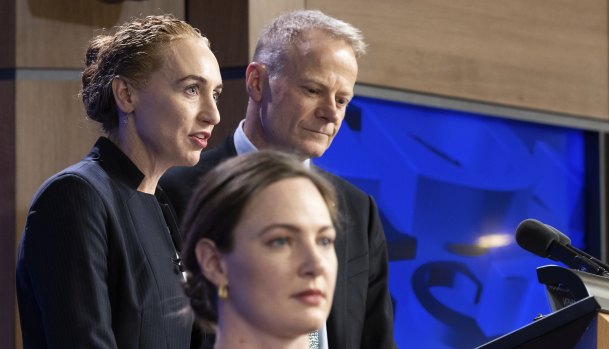 Calling for urgent action to prevent a deadly cancer: Professor Georgina Long with fellow co-medical director of Melanoma Institute Australia Professor Richard Scolyer and Olympian Cate Campbell at the National Press Club of Australia in Canberra.Credit:Alex Ellinghausen
At a speech at the National Press Club in Canberra on Wednesday, they said the country had dropped the ball in preventing a cancer that would kill 16,000 people, leave 350,000 living with the disease and cost the nation $8.7 billion by 2030 unless action was taken quickly.
"Sun safety needs to have the same billing as other safety measures which are already mandated through sporting codes," Long said, citing helmets in cricket, cycling and softball, lifejackets in water sports and rules in contact sports to prevent concussion.
"All of these safety measures are there to protect athletes from injury now but also to prevent them from developing debilitating medical conditions that can even be fatal in the future," she said.
Scolyer added, "Our call today is that sun safety is afforded the same respect."
Professor Georgina Long and Professor Richard Scolyer at the National Press Club of Australia in Canberra. Credit:Alex Ellinghausen
Having had discussions with the Australian Cricketers' Association, he hoped Australian cricket would elevate "the broad-brimmed floppy white hat to the same status as the baggy green".
While targeted drug therapies and immunotherapy now meant that 50 per cent of patients with advanced melanoma survived, one Australian was still dying from the cancer every six hours.
"That's more lives lost to melanoma than on our roads each year," Scolyer said.
The two heads of the institute, a non-profit organisation affiliated with the University of Sydney that combats melanoma, called on the federal government to launch a Sun Safe Sport initiative, which included modernising the iconic Slip, Slop, Slap campaign, and urged media, advertisers and influencers to "change the cultural narrative around sunburn and tanning".
Cate Campbell at the National Press Club.Credit:Alex Ellinghausen
They were critical of a recent Wallabies rugby commercial that jokingly showed English fans getting sunburnt, a TV journalist quipping that the weather was so balmy she could be out tanning and a reality TV show that featured a young woman who tanned for five hours a day.
"A 'sunburnt tanlines' stream on TikTok had more than 200 million views, predominantly teens and young adults showing short videos of their red raw burns," Long said. "Tanning and sunburn [are] being normalised, glamorised, even trivialised every time you scroll through socials or turn on the TV."
Champion swimmer Cate Campbell, who is an ambassador for the institute after having a melanoma surgically removed in 2018, said the country had become complacent after the success of the Slip, Slop, Slap campaign that was ubiquitous as she grew up.
"We're not saying, 'Don't go out and enjoy the sun and do all the things that make being Australian great' … but it's about doing it in a really safe way," she said.
The Morning Edition newsletter is our guide to the day's most important and interesting stories, analysis and insights. Sign up here.
Most Viewed in Lifestyle
From our partners
Source: Read Full Article