Is Melbourne about to have another frankenfood moment? I only ask because of this, the so-called Tradie Slammer at new city venue Wonderpop.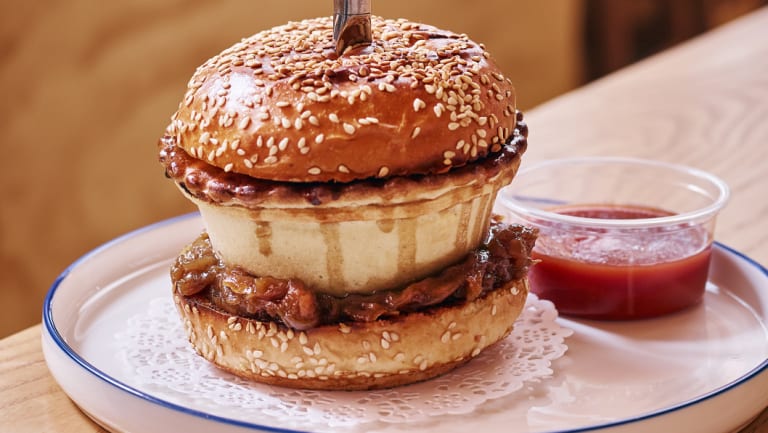 The Tradie Slammer burger.
It's a meat pie wedged inside a brioche bun, and it's the creation of Raymond Capaldi.
Chef Capaldi says he was inspired by something he ate when he was a hungry, poor young chef in London, when he apparently would fuel up on a mince pie inside a bun.
But what has possessed a chef that he would jam a pie inside a sweet hamburger bun and slather it in onion jam? What is he really trying to say?
Capaldi is a well-known and respected man around Melbourne's kitchens. He was at the Sofitel in the 1990s, he started out at the Dorchester in London (they clearly weren't paying him very well) and his Melbourne restaurant Hare & Grace won a hat from The Good Food Guide. So he's no young tyro trying to make a name for himself with a bit of a bakery mash-up.
And it's not as if the Tradie Slammer is very Instagramable: it's bit of glazed short-crust pastry inside a sesame seed-crusted bun – until someone starts to eat it, when, you'd assume, it becomes a mess of glazed pastry, sesame seed-crusted bun and pie filling in a puddle of onion jam.
Is this creation a Brexit protest from the Scottish-born Capaldi – a British pie lovingly embraced by a sweet continental roll – or a wry comment on the Americanisation of food culture: the traditional meat pie swallowed whole by a hamburger bun?
The Slammer has proved a hit with workers from building sites around the pie shop at the top end of Little Lonsdale Street: they are reportedly banging on the windows first thing in the morning to get at it.
(These fluoro-clad power-tool wielders are Melbourne's true food tourists. One week it's roofing iron and the city's best falafel for lunch in Coburg, the next it's spec homes and ham and salad rolls in Tarneit, then a city building site and a chance to swap the four 'n' twenty for this piece of cheffy fun.)
The Tradie Slammer does break meat pie rule number one: as everyone knows, you should be able to eat a meat pie with one hand while you juggle a choc milk and a ciggie in the other.
So whatever else you might think of Raymond Capaldi and his latest creation, you have to admit that he is a bit of a pie-conoclast.
Matt Holden is a writer for The Age.
Source: Read Full Article