Talking points
1 in 6 breast cancer diagnoses happen without a lump
Discharge, skin dimpling and pain are all warning signs for breast cancer
BreastScreen Australia provides free mammograms for women over 40
When Jessica Switzer started to experience pain in her breast, it didn't really raise alarm bells. She was, after all, breastfeeding her then 10-month-old.
"I thought it was a blocked duct, or mastitis," the artist recalls. "I had pain and discomfort, but that kind of goes hand in hand with breastfeeding."
When Jessica Switzer started to experience pain in her breast, it didn't really raise alarm bells.
Months later, after experiencing pain and swelling in her breast and developing a lump in her armpit, Ms Switzer was diagnosed with breast cancer at the age of 33.
While most people know to have a lump in their breast checked, other symptoms of breast cancer, such as discharge, pain and swelling of the breast, or redness may not raise the same alarm bells.
According to Professor Fran Boyle, medical oncologist at Sydney's Mater Hospital and a board director at Breast Cancer Trials, approximately one in six breast cancer diagnoses come without a lump.
"Women need to be breast aware; women of all ages should be familiar with the normal look and feel of their breasts," Professor Boyle says, adding that this shows the need for women to have regular mammograms from 40, when they are available for free through BreastScreen Australia.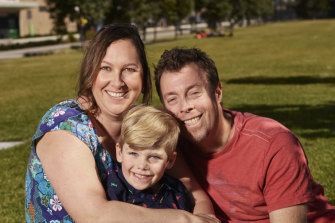 Heidi Routley, 43, started having routine mammograms at 40 after a friend's early breast cancer diagnosis.
For Heidi Routley, 43, there were no symptoms when she received a breast cancer diagnosis. She simply fronted up to the third of the mammograms she had booked in for every six months since turning 40.
"I went in and had the mammogram and was called back for a biopsy, and that's when the cycle of breast cancer came into my world," the teacher from Newcastle says, adding that she was inspired to be vigilant with breast cancer checks from the age of 40 after a friend received an early diagnosis. "Everyone I meet, I'm like: go and get a mammogram when you're 40. It's free."
Despite being in her early 30s, Ms Switzer continued to have mammograms and visit doctors with her symptoms because she had a family history with the BRCA-2 gene mutation: her uncle, cousin and sister have all received a breast cancer diagnosis, meanwhile her father had prostate cancer, which is also associated with BRCA-2. She says she was lucky that her family history made her vigilant.
"You look back at it and think, it could have been a lot worse. I ended up being diagnosed at stage 3. If it had taken longer it could have been a lot worse."
Changes in the breast that should prompt a visit to the doctor
A lump, lumpiness or thickening of the breast
Changes in the skin of a breast, such as puckering, dimpling or a rash
Persistent or unusual breast pain
A change in the shape or size of a breast
Discharge from a nipple, a nipple rash or a change in its shape
October is Breast Cancer Awareness Month.
Source: Read Full Article