In December 2002, I was concerned because I hadn't had a bowel movement in two weeks. I tried everything—suppositories, enemas, milk of magnesia—but nothing worked.
By the time I went to the ER, I was so sick I couldn't stand up straight. The care team members gave me a laxative, and after a couple of hours, I finally went to the bathroom. They asked me about myself, and I told them I was a mom of five girls and worked as a bus driver for the Chicago Transit Authority. They figured my problem was probably just stress-related and told me to follow-up if I had any issues again.
I left without any answers. To be honest, I felt dismissed. Sure, I was dealing with a lot of stress—but I'd had my kids and the same career for years and had never experienced severe constipation like that. Still, I felt relieved to hear that nothing was wrong. Maybe I was overreacting.
A few weeks later, I passed out on the steps of my bus at the beginning of my shift.
I was sweating and having heart palpitations, so I was taken to the ER. The medical team thought I might be having a heart attack—so they asked me about my health history and took blood samples. Since I had endometriosis and uterine fibroids, they figured that was the problem and told me to contact my ob-gyn. Later, I had surgery to remove my ovaries and uterus due to ovarian cysts and fibroid tumors.
I hoped that would be the end of my health struggles. But just two weeks past my 36th birthday in June 2003, I ended up in the ER again. I couldn't keep anything down—not even sips of water—and was vomiting.
At that point, given that I had experienced so many GI issues for so long, I had my stool tested, which revealed tiny amounts of blood that I couldn't see—a potential sign of colon cancer. They gave me an emergency colonoscopy and found a tumor the size of a grapefruit on the right side of my colon.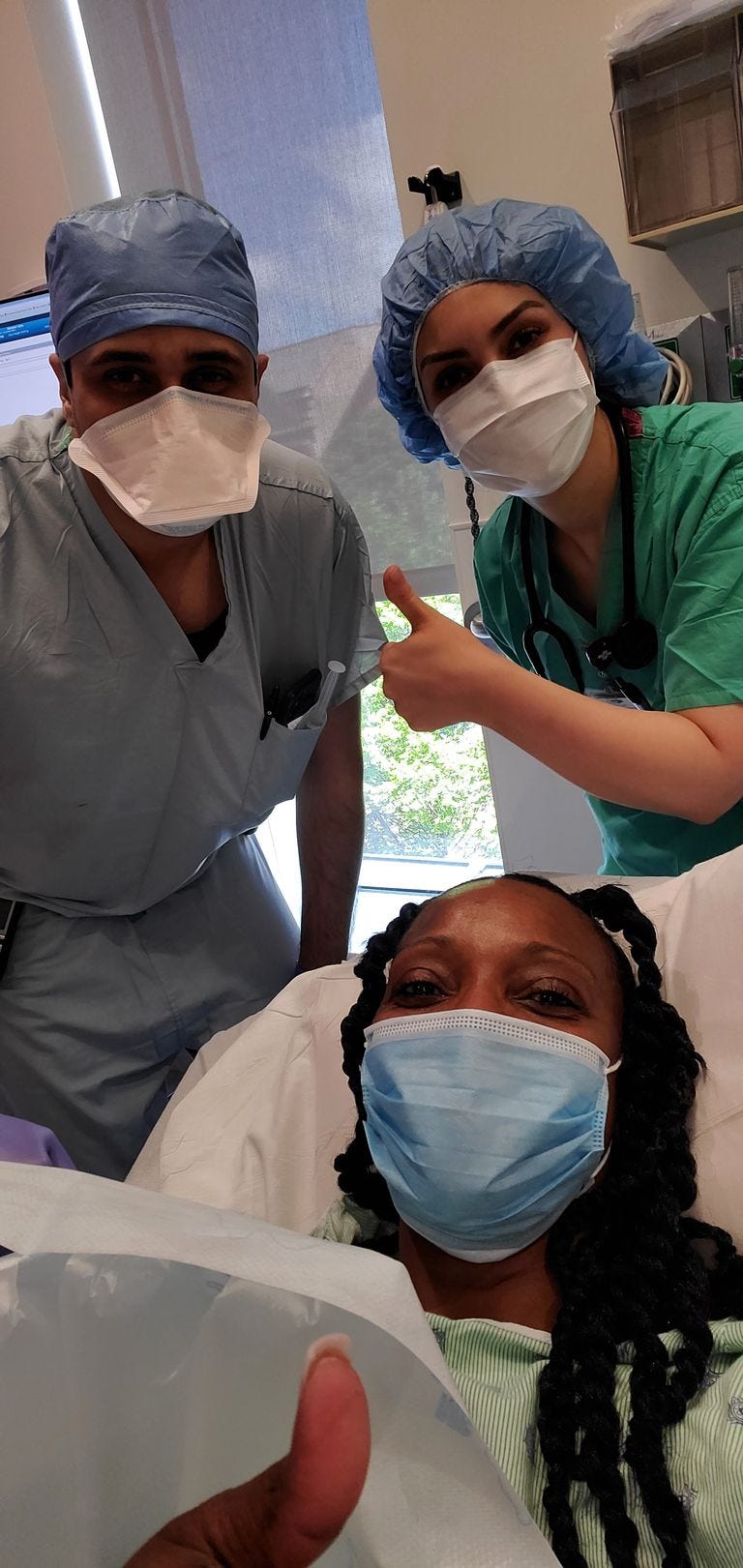 When the doctor told me I had colon cancer, I was shocked.
My mind went to the worst places: Was I going to die? What would happen to my kids, my house, my job? There were so many things I needed to do. Had I taught my girls everything they needed to know?
But I didn't have time to get anything in order. I had to start treatment immediately. They performed an emergency surgery to remove the tumor and my large intestine, and did a resection of my rectum so I wouldn't need a colostomy bag. After one round of radiation, my doctor determined that I didn't need chemotherapy, since all traces of cancer had been removed.
Ten days after I was admitted into the hospital, I was sent home. I'd lost a considerable amount of weight. I was worried about how my kids were going to respond when they saw me. Besides an off-handed comment from a nurse that I shouldn't have anal sex—why was she telling me that?!—no one told me what I should or shouldn't do or what I needed to know about my ongoing care.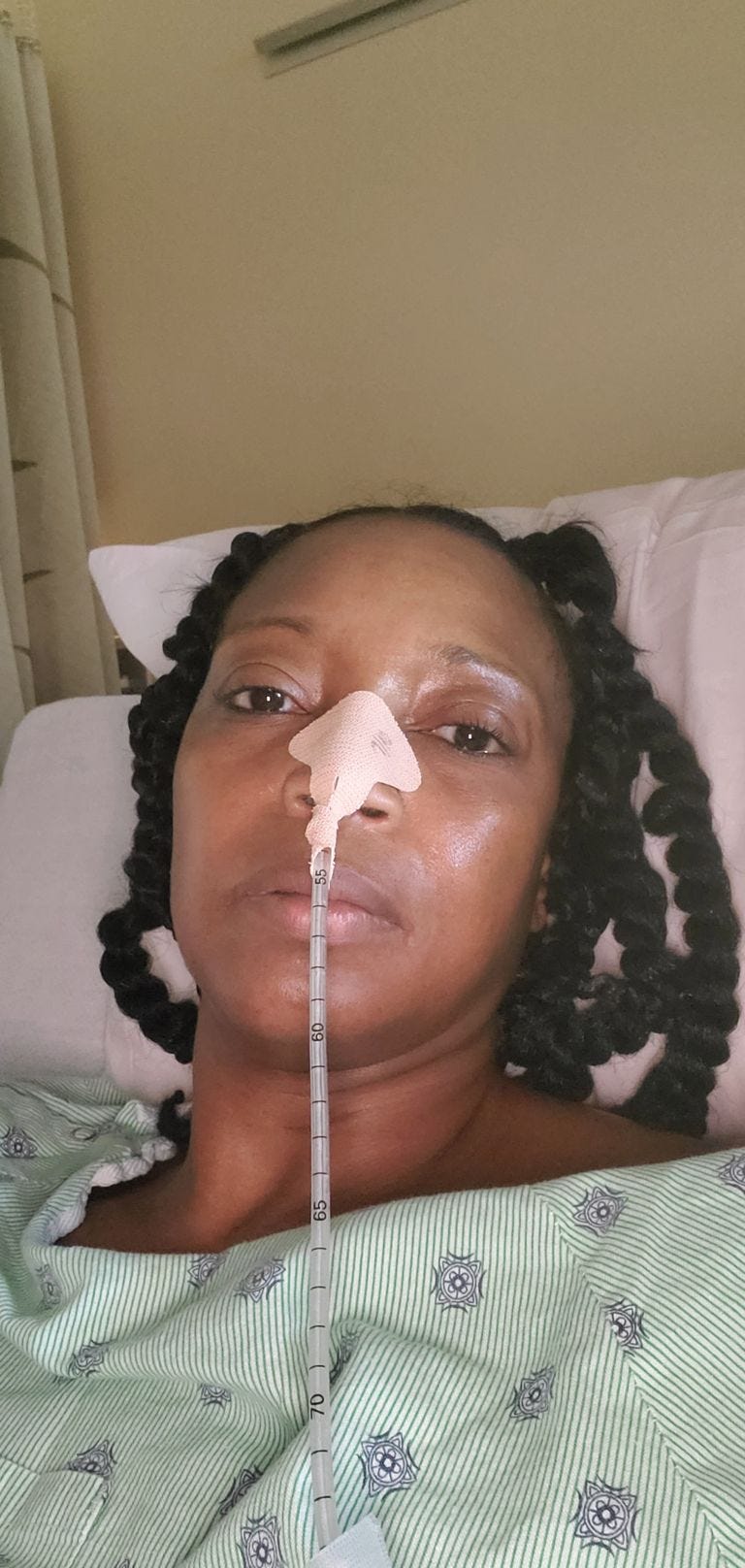 As I recovered, I struggled to get the support I needed.
After I left the hospital, the only follow-up call I got was to ask if I needed any assistance changing my bandages. Although I tried to return to work, I couldn't because I was incontinent. If I hit a bump, I became a biohazard and had to go home.
After waiting for months, I was denied long-term disability because—as I was told—having my large intestine removed wasn't considered a disability. Unable to pay my bills, I lost my car and home. Moving from place to place with my girls, I was deeply distressed. I felt like I had no fight left in me.
I spent five days in a psychiatric ward after attempting suicide. The nurse there really spoke to me. She said, "Your children need to know you. Everyone else is going to tell them their version of you—but they need to have their own memories of you."
From then on, I committed my life to a higher cause.
I felt so guilty for believing my daughters could have had a better life without me. A family friend who had a four-bedroom house offered to let us stay with her, and that was our saving grace.
I thought of my youngest daughter, who was four years old at the time. I made a promise to God that if I could see her turn 18, I would do everything I could to raise awareness of colorectal cancer.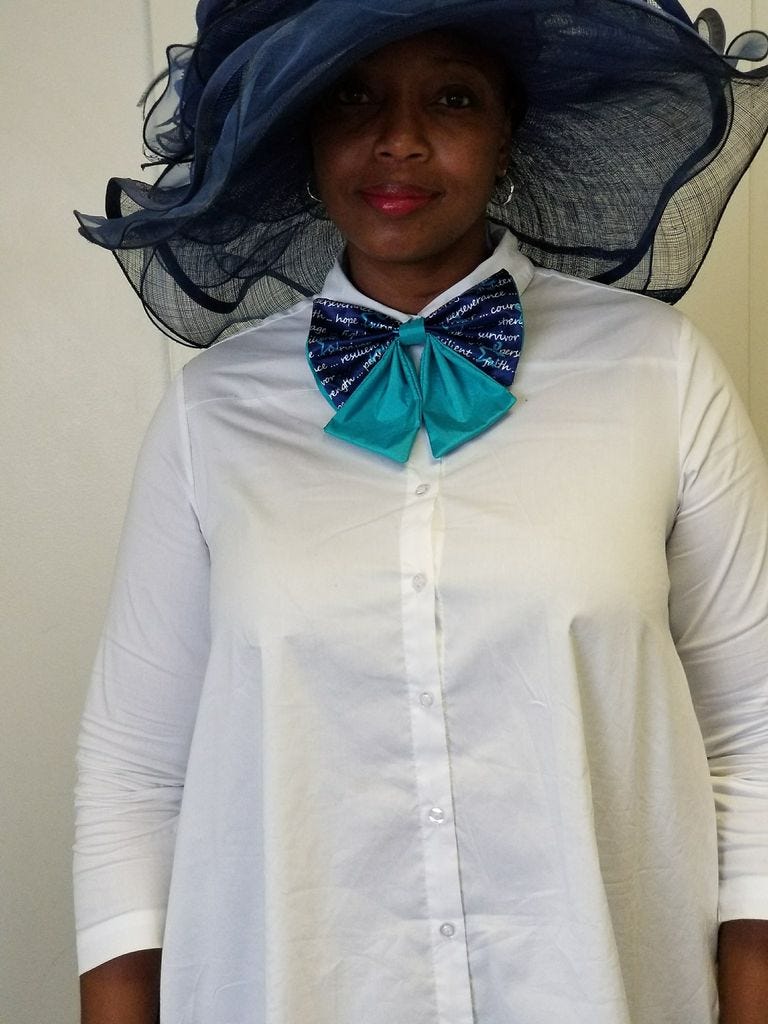 By December 2004, I'd found a new job and a home of our own. I started doing research and began volunteering with colon cancer advocacy organizations. At the first conference I ever went to, I noticed that there were no young people like me, no one under the age of 50 sharing stories of survival or raising a family. (About 1 in 10 new cases of colon cancer are in people under the age of 50.)
The focus was on cancer screening—which is important—but no one was talking about the financial burdens of cancer treatment and the lack of social support, services, and follow-up care that patients like me really needed. So, I decided to become an advocate.
When reports started coming out in the 2010s, I learned that Black people have the highest rates of colon cancer of any group in the U.S.
We're 20 percent more likely to get colorectal cancer and 40 percent more likely to die from it, according to the American Cancer Society (ACS).
While the reasons for these health disparities are complex, some trace back to social determinants of health like a lack of access to quality medical care, early screening, health insurance, and nutritious foods due to economic and racial inequities. Black and Latinx people are typically diagnosed at a later stage in the disease and are less likely to get treatment that could potentially cure it like surgery.
When I first heard about this, I wondered, What are we going to do about this? What could be done? I was told by organization leaders that they didn't have the funding to do additional outreach to marginalized communities. At the same time, I saw plenty of outreach efforts in majority-white communities. This angered me. I thought, How much funding do you actually need?
I decided to take things into my own hands. Since blue is the color for colon cancer awareness, I held a Blue Hat Bow Tie Sunday event at my church, inspired by a documentary I saw on the Red Hat Society. It cost me less than $500 to order bags and handouts to reach 8,000 people in my church. Inspired by our success, my pastor agreed to hold the same event next year and for every year after that. Since then, it's spread to 15 churches across the country.
"Fifteen minutes is about the time it takes to go through a colonoscopy or use a test kit. Fifteen years is what it took me to recover from my cancer journey."
In 2015, I founded my nonprofit organization, the Blue Hat Foundation, with a goal of raising awareness and providing free testing for colorectal cancer in underserved communities. Today, I try to be in as many places as I can be—working on hospital advisory boards, holding screening drives, sharing stories of people of color who have survived the disease, and supporting patients so they can thrive long after they've finished treatment.
Since the death of Chadwick Boseman, the conversation has been growing. Many cancer advocacy and research organizations, including Stand Up To Cancer, have been focusing on increasing colorectal cancer screenings with a particular focus on medically underserved communities. But some people are still afraid of colon cancer screening or aren't making the time for it.
To them, I say this: Would you rather take 15 minutes or 15 years? Fifteen minutes is about the time it takes to go through a colonoscopy or use a test kit. Fifteen years is what it took me to recover from my cancer journey.
Source: Read Full Article