I'm just going to throw this out there: I hate taking vitamins. Most of them taste like chalk, sticking to the back of my throat, sometimes even leaving a funky, metallic taste in my mouth.
TBH, when I first decided to review Ritual's Essential for Women vitamins, I was expecting more of the same—until I popped those little pills in my mouth.
I was ready to slug 'em back with a few huge gulps of water, when all of a sudden I realized that a minty-fresh taste was flooding my mouth. I was so surprised I almost forgot to swallow. When I did, a hint of cool, refreshing mint remained behind.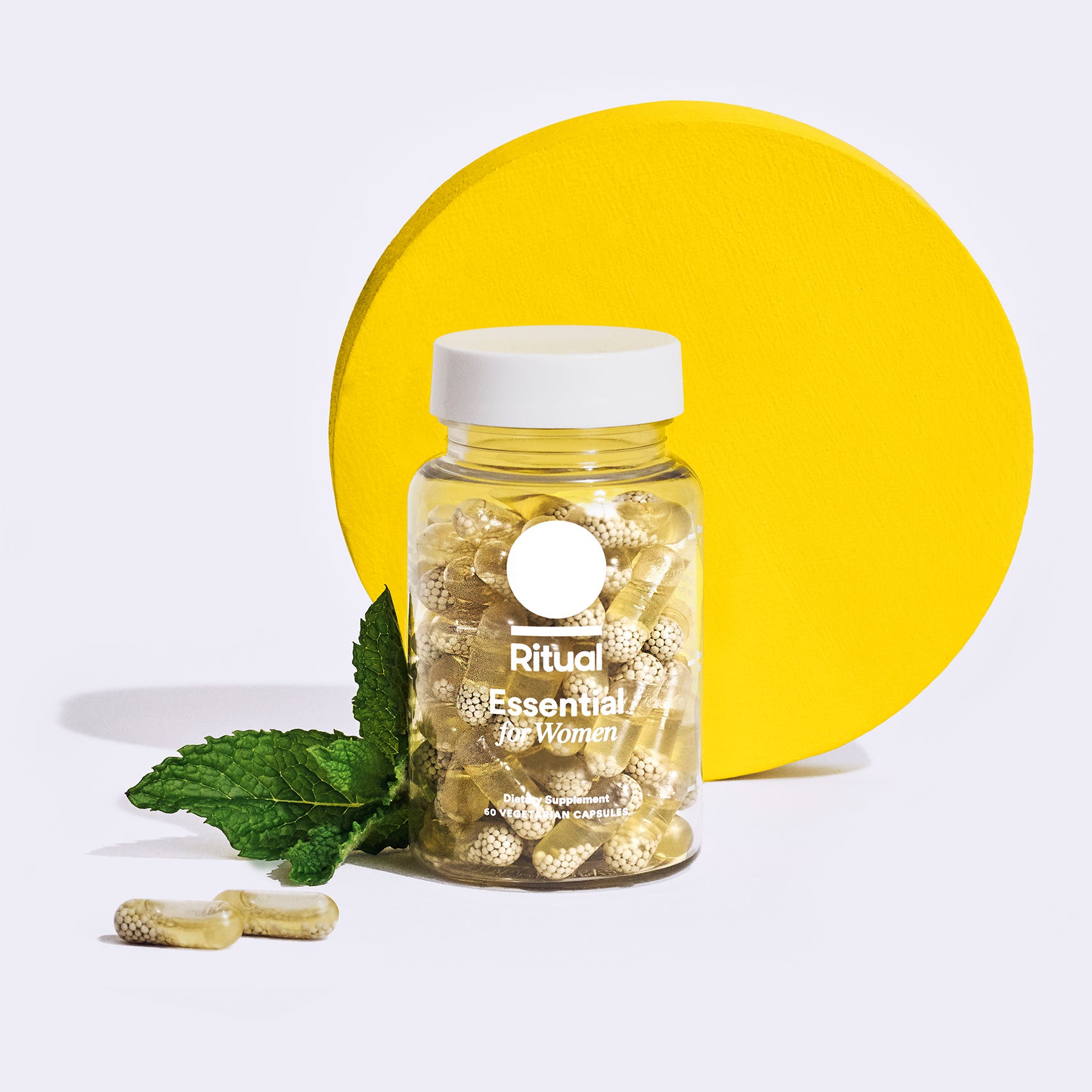 My first thought: Whoa. My second thought: WTF is in this little vitamin!?
Well, look closely at your bottle of Ritual vitamins and you'll see a little plastic tab amidst your pills. That, my friends, is the secret behind this vitamin's oh-so-pleasing taste. "We developed a food-grade plastic insert or 'minty tab' infused with peppermint oil," says Mastaneh Sharafi, Ph.D., R.D., head of scientific and clinical affairs for Rituals. "The tab is found in every bottle but doesn't change anything about the formulation of the capsule itself."
I know, not everyone needs a multivitamin.
It's true—the best way to get your daily dose of nutrients is definitely through food.
"I recommend multi-nutrient supplements, but not for everyone," says Sonya Angelone, R.D., and spokesperson for the Academy of Nutrition and Dietetics, who is not affiliated with Rituals. "I first look at [a client's] food intake and help them maximize nutrient intake from food."
Sharafi also says that people with nutrient gaps in their diet are the best candidates for multivitamins—that could mean people following a vegan diet, or just the average person who doesn't eat enough fruits and vegetables. Personally, I first started taking (or attempting to take…) a multivitamin when I learned I had a vitamin D deficiency.
If you're trying to lose weight, a multivitamin might also be a smart choice. (Yes, keto dieters, I'm looking at you.) "Often, I recommend a good quality, general multi-nutrient supplement for someone on any lower calorie diet," says Angelone.
But if you need a multi, you might as well take one that tastes good…
Here's the deal with Ritual vitamins: When you place your order for the Essential for Women multivitamin, you're signing up for a subscription that costs $30 per month. Shipping is free, and each bottle delivered to your doorstep contains a full month's supply. You can cancel your subscription at any time.
The company also makes an Essential Prenatal vitamin that costs $35 per month and operates on the same subscription plan.
The bottom line: Not everyone needs a vitamin, but if you do, Ritual's Essential for Women multivitamin has a minty taste that makes it a pleasure to swallow.
Source: Read Full Article