In a powerful new video, male medical professionals call out the unfair treatment of their female colleagues—and are lending their support to an important new initiative aimed at taking on "discrimination, inequity, and harassment."
The HeForShe campaign video was part of a new healthcare initiative from
TIME'S UP, which announced Thursday that it was launching an effort to transform "outdated systems of power" in the medical industry.
The problem is disturbingly widespread: In 2018, a survey of 6,200 physicians and clinicians found that more than 10 percent of nurses, nurse practitioners, and physician assistants had experienced sexual harassment within the previous three years. One-third of nurses and nurse practitioners said they had dealt with sexual harassment by a physician.
"As an emergency room physician, I am trained to advocate for my patients and ensure that they are getting the best treatment and care possible," Dr. Dara Kass, a founding member of TIME'S UP Healthcare, said in a statement Thursday. "I'm committing to using these same skills to fight for my colleagues and peers, because just like our patients, every healthcare employee deserves a workplace where they can thrive—free of harassment and abuse with equal opportunity to grow and prosper."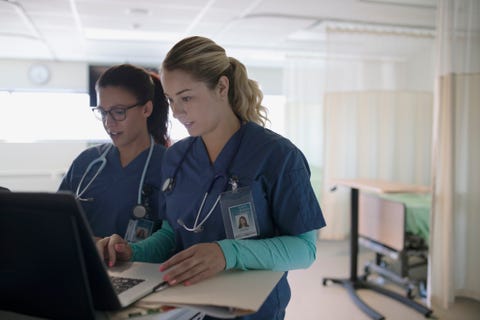 Hero ImagesGetty Images
The initiative is affiliated with the TIME'S UP Foundation, a nonprofit seeking "safe, fair and dignified work for women of all kinds." The foundation was borne of the #MeToo movement, which has driven a cultural reckoning over unchecked sexual misconduct and abuse of power by powerful men in the entertainment industry and beyond.
TIME'S UP Healthcare is backed by top medical systems, including Yale Medical School and the Mayo Clinic, as well as prominent medical organizations like the American College of Physicians.
In launching the initiative, TIME'S UP Healthcare also released a video of male medical professionals describing having witnessed female colleagues endure harassment, disrespect, and even assault—and seeing little or nothing change in response to complaints. The medical professionals in the HeForShe video call for systemic changes to healthcare culture, including putting more women in leadership positions.
"Healthcare can't afford to have toxic environments," one healthcare professional says.
Source: Read Full Article