The last couple of years have been ripe with humiliation. Many of us, it turns out, behave less nobly in the face of global crises than we would have imagined.
Some people have taken up day drinking like they're Keith Richards' personal sommeliers. Others now make strangers in supermarkets squirm because they've forgotten how to socialise.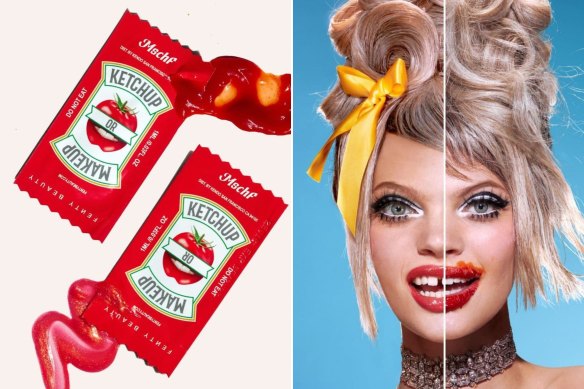 Credit:Fenty Beauty
I'm now in my Charlton Heston phase of shopping addiction, regarding the relationship I've forged with my credit cards. (As the Ben Hur actor famously said of his beloved guns, people could take them away only when they pried them from his "cold, dead hands".)
So, when Rihanna launched a beauty release that makes fun of us, last week, people were not amused.
"WHO DID THIS??? I WANT NAMES!" wrote one person, on Instagram, below a post about the launch.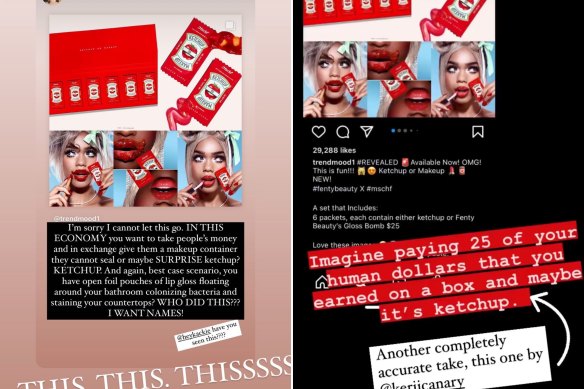 Credit:Instagram
"Are these people on crack?" wrote another.
And, my personal favourite: "Even if I got one packet of ketchup I'd cry."
Because the USD$25 tomato-red box comes with a catch. It contains six plastic sachets, but you only know when you rip them open if they contain a gloop of Rihanna's coveted red lip gloss or tomato sauce.
We get it. We don't deserve nice things. Us spendaholics deserve to have our hands rapped, like primary schoolers who've swiped the teacher's mobile phone.
Because the tomato box is a collaboration with MSCHF, the Brooklyn-based guerilla company behind other viral limited-release products that poke fun at our urge to consume, like the USD $76,000 Birkenstock sandals made from reclaimed Hermes Birkin bag leather.
But, c'mon. If we're going to dream up crazy inventions to spend our hard-earned cash on, we can do better.
Imagine if the simple act of scrolling Instagram helped you learn about the cosmos. Every time you watched a reel of someone's outfit of the day – bam! – you'd be one step closer to understanding how black holes work.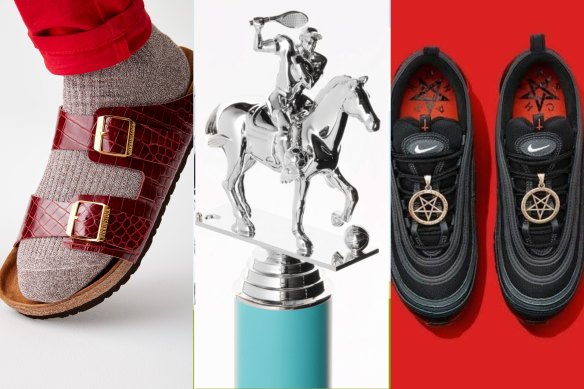 Rihanna's new makeup release is a collaboration with MSCHF, the guerrilla company behind other punk products, including, from left, Birkenstock sandals made from Hermes birkin bags, a Tiffany & Co "Ultimate Participation Trophy", and so-called Satan Sneakers.
Or, what if instead us nudging us towards divorce court, the petty stuff we do to our partners when they've done us wrong earned us points for creativity? For instance, that moment your partner's booked a second trip away that month, and you tell your kid, "Go ask dad to help you with that model plane, he told me he'd love to help". You could redeem those creativity points later for four instances of your partner putting the kids to bed, solo.
The pinnacle, naturally, would be getting paid to do the ultimate dream job: applying pressure to a deck chair. One minute your back is easing into the plastic weave of the banana chair, the next, you've contributed one unit of energy to power your city's lights.
Would we all be better off looking at the ocean, every time we feel that nicotine craving to disassociate from our broken relationships and ticker tape roll of responsibility? Instead of trolling the internet to buy something that makes our breath turn shallow and puts our mind in a trance?
Well, duh.
But for most of us on many a day, that ship has sailed.
Environmental collapse, racial injustice, and politicians arguing over whether a 10-year old American rape victim should have the opportunity to experience the "benefit of having the child" have made us weary.
As Pulitzer Prize-nominated author Rebecca Makkai recently put it, "Does anyone have a solid alternative to 'Hope you're doing well' at the start of an email? It feels almost hilarious to use at this point, like saying it to someone you pass in a burning building."
And, I'd add, let us shop without feeling like we're being unwittingly ushered on to the set of Jackass. It's been a rough couple of years.
Make the most of your health, relationships, fitness and nutrition with our Live Well newsletter. Get it in your inbox every Monday.
Most Viewed in Lifestyle
From our partners
Source: Read Full Article