The COVID-19 pandemic has put enormous stress not only on the healthcare system but on individual physicians as well, whether they work in hospitals or other practice settings. But the pandemic arrived at the doorsteps of an already stressed and burned-out profession. Practicing physicians have been dealing with burnout for many years. As a result, many physicians are considering other career options.
These trends are reflected in the recently released Medscape Physician Nonclinical Careers Report 2021. In the survey, more than 2500 US physicians were asked whether they were thinking of leaving clinical practice and if so, why they wanted to leave and where they planned to go.
The results were sobering. Roughly 1 in 5 (22%) of the physicians surveyed said they were considering leaving their current jobs to pursue a nonclinical career; 58% of those said they planned to make the change within 3 years. Eight in 10 are actively exploring other options, and over half (53%) are looking online.
Burnout was most often cited as the primary reason for considering a change; 34% gave this reason. Twenty percent said they wanted to work fewer hours. Physicians seem to be aware of the extent of the dissatisfaction in their profession. One respondent said the reason for leaving clinical practice was the desire to find a career helping burned-out colleagues.
Systemic Problems
The pressures forcing physicians to rethink their careers are ongoing and systemic and predate the COVID-19 pandemic.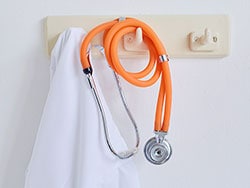 Although COVID-19 has created challenges for physicians, only 7% put the blame for leaving clinical practice squarely on the pandemic. When asked why they sought to change careers, respondents shared their frustrations with the healthcare system. Much of this frustration involves billing and finances, but lack of agency and autonomy were cited as well. One physician said, "I really, really enjoy practicing medicine but don't get paid enough from all sources, especially the insurance companies who resist paying for services." Another indicted the healthcare industry itself and its treatment of healthcare workers: "Medicine has turned into an employed-labor commodity and exploitation."
There are indications that the nonfinancial reasons are more important to women. Although women were more likely than men (39% vs 30%) to say their burnout was not related to the pandemic, more men than women said they wanted to work fewer hours (22% vs 17%). Men were also more likely than women to say they expected to earn more in a nonclinical career (7% vs 2%).
Medical education requires a serious commitment of time and money, yet, despite the expense, almost half (45%) of those considering leaving clinical practice said they felt no guilt about the money spent on their educations. According to David McLaughlin, MD, founder of Physician Renaissance Network, the feeling of having wasted their training may be higher in physicians who feel trapped in their jobs than in those who enjoy a rewarding career that still makes use of their training.
Where's Everybody Going?
Medical professionals who no longer want clinical careers have a variety of options, many of which make use of their training. In previous surveys, physicians who were considering other careers usually aimed for law, business, teaching, finance, and engineering. In this survey, teaching was the top choice, at 42%. The other options have been reshuffled or have dropped off entirely. Thirty-four percent of respondents said they are considering a career with a healthcare business company, and 27% said they are considering writing as a career. Law was the top choice for only 8% of doctors surveyed.
Whatever the new job will be, most physicians expect they'll be happy there. More than 80% said they are somewhat confident to very confident they'll like their new careers.
Avery Hurt is a freelance science and medical writer.
For more news, follow Medscape on Facebook, Twitter, Instagram, and YouTube.
Source: Read Full Article