Save articles for later
Add articles to your saved list and come back to them any time.
Would you pay about $1000 a week on a gym membership? Perhaps not. But what if that membership covered practically everything you'd need to remain fit and healthy, including access to yoga classes, a meditation cave, vitamin IV drips, anti-ageing biohacking, and cryochambers – all designed specifically to your needs?
Saint Haven – a private wellness centre opening in the heart of Melbourne's Collingwood on Monday – offers all this. But gaining access to this wellness haven isn't easy. You must first be nominated by an existing member, which is followed by four interviews to determine how well you align with Saint Haven values. But despite the hurdles and hefty price ($1000 a week is actually closer to the middle tier), its membership has already sold out.
The "meditation cave" in Saint Haven, a private wellness centre in Collingwood.Credit: Justin McManus
This is part of a larger trend in Australia that has seen premium fitness and wellness experiences go mainstream. According to industry research, premium fitness experiences have helped lift the industry from its COVID-19 losses. This is largely because people – who are still recuperating from the isolation of lockdowns – are frequently prioritising community and experience over price when determining where to work out.
"People who go to the premium or boutique-style fitness centres, pricing is not the only factor that they consider," says IBISWorld industry analyst, Ekaterina Ezhova. "They consider the service, if it has longer opening hours and better quality instruction, better timetables, and even the interior and how they feel inside. It's the whole experience."
My visit to Saint Haven was the first time I have truly enjoyed a "premium" experience. The underside of the bar was heated to ensure my legs didn't get cold while I sipped on my collagen hot chocolate, the shower water was infused with vitamin C to protect the skin, and the ice in my drink contained essential oils that matched the taste profile of my beverage. I may have felt like a gremlin beside the impossibly beautiful staff, and I had never been so aware of just how little I had in my bank account, but I was hooked.
This kind of luxury comes at a serious price. For privacy reasons Saint Haven does not publicise prices, but membership costs are said to start at $150 a week, all the way up to around $2000 a week for a tiny group of exclusive clientele. But the pandemic's regular health messaging has turned wellness into a hot topic. Despite the intensification of the cost of living crisis, which is seeing people cut back on streaming subscriptions and UberEats, Ezhova says many remain willing to invest in exercise, socialisation and recovery.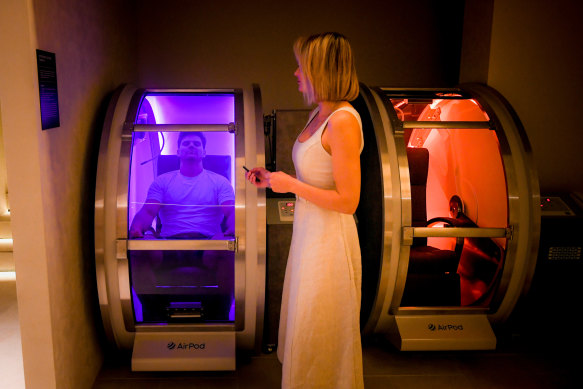 The "AirPods" at Saint Haven increase the amount of oxygen in your system, which helps reduce fatigue and jetlag.Credit: Justin McManus
Within just two hours at Saint Haven, I had eaten a hearty meal (from a menu designed by nutritionist Luke Hines), had an array of tonics and elixirs with ingredients I could barely pronounce, had an out-of-body experience doing "breath-work" in the meditation cave and completed the "fire and ice experience", which saw me sweat out the cheesy gnocchi I'd had the night before in a sauna and then plunge into a pool of minus 7 degrees.
And this was a mere fraction of what I could have done. There's a cryotherapy room (which sinks below minus 87 degrees to reduce inflammation), spaceship-looking chambers called "AirPods" that increase the amount of oxygen in your system to assist with jetlag, a fully equipped gym, yoga and Pilates studios, and an entire area for anti-ageing biohacking – an area I was honestly a little too afraid to ask about.
This may sound like some sort of sci-fi alternate universe, or like something out of a Black Mirror episode. But it's ultimately simply intended to make you feel better, something many Australians are striving for, says chief executive of AUSactive, Barrie Elvish.
"There's been some research released that says … giving up a gym membership is one of the last things people would do," he says. "They're seeing the value of their wellbeing, the social connection, the motivation to get out of bed."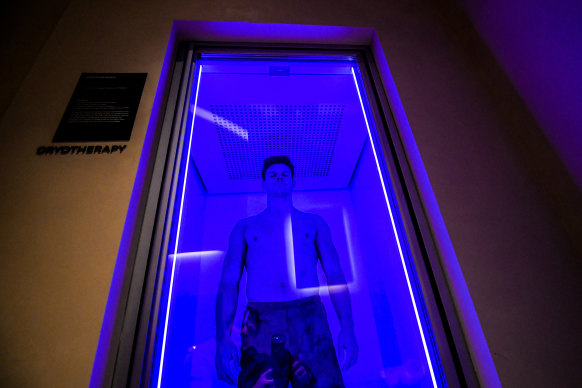 The cryotherapy chamber at Saint Haven can go as low as minus 87 degrees Celsius.Credit: Justin McManus
Though they're still willing to spend on fitness, people are aware of rising interest rates and rent, meaning when they do spend, they want to ensure they get the biggest bang for their buck. Premium memberships that offer hyper-personalised benefits are becoming more appealing than budget gyms (like Anytime Fitness or GoodLife), which are often self-directed and offer fewer exercise or wellness options.
"If they're getting the value that they think they're paying for, I think they'll keep paying for it," Elvish says.
People are also drawn to the convenience of premium fitness centres. Instead of going to a café for coffee, a gym for strength exercises, a studio for yoga and a restaurant for dinner, Elvish says premium centres like Saint Haven bring it all under one roof. For those that suffer from decision fatigue or wish to save time and petrol, a premium membership could be the answer.
After selling out far quicker than expected, Saint Haven founder Tim Gurner can already envision the expansion. "We want five to six in Melbourne, probably about seven to eight in Sydney, one in Gold Coast, one in Brisbane," he says.
But he's quick to clarify that Saint Haven isn't for everyone. The average age of members is 39 (not many 20-somethings could afford $149 a week), and all of them are "highly motivated by health and wellness", Gurner says.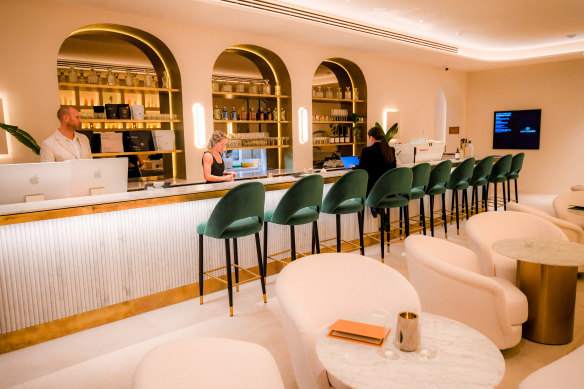 Staff greet members by name and offer an array of tonics and elixirs at Saint Haven's bar.Credit: Justin McManus
"We really don't want anyone who is pretending, or who just wants to be part of the new flashy thing. This is not an Instagram club, this is very much a private club where people have the same goals and ambitions."
It's important to note that the word "premium" denotes some form of privilege – not everyone can afford to prioritise their fitness to such an extreme when rent keeps notching up. And Saint Haven is as premium as it gets.
But not every premium facility requires such commitment and investment. Melbourne's BalanceNorth provides podiatry, physiotherapy, massage and on-site nutritionists – all of which you can pay for as you go – and Happy Melon allows you to do two weeks of unlimited fitness classes for just $50. And in Sydney, membership at Paramount Recreation Club begins at $50 a week.
Emerging from the surreal luxury of Saint Haven, I felt guilty about how long it had been since I last hopped on a treadmill. The price may give me heart palpitations, but its messaging is pure: take care of your health like it's a premium product.
Make the most of your health, relationships, fitness and nutrition with our Live Well newsletter. Get it in your inbox every Monday.
Most Viewed in Lifestyle
From our partners
Source: Read Full Article