Patient-reported symptoms and quality of life should guide treatment for the roughly 8.5 million people in the United States living with peripheral artery disease (PAD), the American Heart Association (AHA) says in a new scientific statement released today.
"The person living with PAD is the authority on the impact it has on their daily life. Our treatment must be grounded in their lived experiences and go beyond the clinical measures of how well blood flows through the arteries," Kim G. Smolderen, PhD, lead author of the statement writing group, says in a release.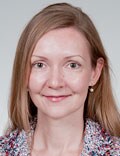 Kim G. Smolderen, PhD
"We have spent years developing and validating standardized instruments to capture people's experiences in a reliable and sensitive way. We are now at a point where we can start integrating this information into real-world care, through pilot programs that can develop quality benchmarks for different phenotypes of patients with PAD and the types of treatments they undergo, as seen from their perspective," adds Smolderen, co-director of the Vascular Medicine Outcomes Research (VAMOS) lab at Yale University in New Haven, Connecticut.
The statement, "Advancing Peripheral Artery Disease Quality of Care and Outcomes Through Patient-Reported Health Status Assessment," is published online October 13 in Circulation.
It comes on the heels of a 2021 AHA statement urging greater attention to PAD, which is underdiagnosed and undertreated in the United States despite its high prevalence.
Fragmented Care
Smolderen said that the multidisciplinary writing group was united in one overarching goal: "How can we disrupt the fragmented care model for PAD and make PAD care more accountable, value-based, and patient-centered?"
"True disruption is needed in a clinical space where the treatment of lower-extremity disease lies in the hands of many different specialties and variability in care and outcomes is a major concern," Smolderen said.
The statement calls for improving and individualizing PAD care by gathering feedback from their experience through treatment using systematic and validated patient-reported outcome measures (PROMs).
PROMs for PAD include the Walking Impairment Questionnaire (WIQ), the Vascular Quality of Life Questionnaire (VascuQoL), and Peripheral Artery Questionnaire (PAQ).
Accountability Tied to Reimbursement
Smolderen noted that PROMs are increasingly being integrated into definitions of what it means to deliver high-quality, patient-centered care and PROMs scores may directly impact reimbursement.
"Using a template that has been implemented in other medical conditions, we propose a shift in metrics that will tell us whether high-quality PAD care has been delivered from a patients' perspective," Smolderen told theheart.org | Medscape Cardiology.
That is, "have we been able to improve the health status of that person's life? We may have removed the blockage in the arteries, but will the patient feel that this intervention has addressed their PAD-specific health status goals?"
To facilitate accountability in quality PAD care, the writing group calls for developing, testing, and implementing PAD-specific patient-reported outcomes performance measures — or PRO-PMs.
Pilot efforts demonstrating feasibility of PRO-PMs in various practice settings are needed, as is implementation research evaluating the integration of PRO-PMs and pragmatic clinical trial evidence to demonstrate efficacy of the use of PROs in real world care settings to improve overall PAD outcomes, the writing group says.
"Following that experience and data, we believe value-based models can be proposed integrating PRO information that will affect accountability in PAD care and may ultimately affect reimbursement," Smolderen said.
"Adoption of this new paradigm will further improve the quality of care for PAD and will put the patient front and center, as an agent in their care," she added.
This scientific statement was prepared by the volunteer writing group on behalf of the AHA Council on Peripheral Vascular Disease and the Council on Lifestyle and Cardiometabolic Health. The writing group includes a patient advocate and experts in clinical psychology, outcomes research, nursing, cardiology, vascular surgery, and vascular medicine.
This research had no commercial funding. Smolderen has disclosed relationships with Optum; Abbott; Cook Medical; Happify, Inc; and Tegus. A complete list of author disclosures is available with the original article.
Circulation. Published online October 13, 2022. Abstract
Source: Read Full Article